The Best School Anime Collection You Should Watch
The Best School Anime Collection You Should Watch
Looking for the best school anime series you want to watch a marathon on the weekend? Anime school is an anime with the theme of school life, which presents an overview of daily life as well as the twists and turns of students who use school uniforms.
The concept raised in this series must feel so familiar because there is a close age gap between the audience and the characters. At least, you who are not high school students have experienced directly the themes depicted in the anime.
As a result, such anime series are seldom boring to watch. Some even repeatedly end the best school anime series until the names of the characters and their every nature.
New to the anime world of this school? Relax, this time I will recommend the 20 best school anime series titles that you should watch. Just check the list below!
List of Best School Anime
1. Orange
One day, a student named Naho Takamiya receives a letter that turns out to be delivered by himself from the future. The contents of the letter asked him for help to immediately save his best friend, Kakeru Naruse who was in danger.
Between disbelief and panic, Naho begins to seek the truth and since then begins to unravel the gloomy sides of his friend. He did not expect that Kakeru harbored so many problems and darkness.
This best anime school is a must-watch because it brings a strong message about depression that is uniquely packaged through back and forth and of course typical of school children's lives. The presentation was praised by many audiences because it is almost equivalent to the quality of the film.
Information
| | |
| --- | --- |
| Synonyms | orange(オレンジ) |
| Genres | Sci-Fi, Drama, Romance, School, Shoujo |
| Score | 7.62 |
2. Kimi no Todoke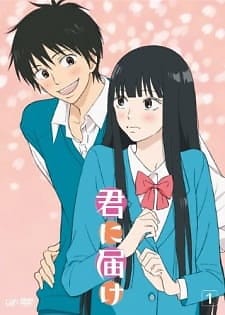 Kimi no Todoke is the best anime series of the school genre that to this day there are still many who watch it. The story centers on a girl named Sawako who is often abused daily due to her sadako-like appearance, a long-haired ghost.
Faring as an unattractive girl who is often ridiculed brings luck because Shouta, the most beautiful guy in his class is the first to invite him to chat.
The concept of the best anime school series may be familiar to you, but that's precisely why the plot is so fun and strong. For those of you who are first time going to the anime series high school, Kimi no Todoke is very worthy of recommendation.
Information
| | |
| --- | --- |
| Synonyms | Kimi ni Todoke: From Me to You, Reaching You |
| Genres | Slice of Life, Drama, Romance, School, Shoujo |
| Score | 8.01 |
3. Seishun Buta Yarou wa Bunny Senpai no Yume wo Minai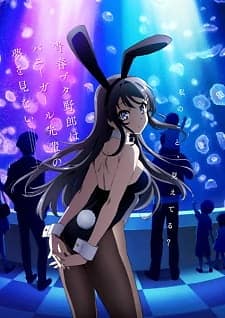 What happens if you're sitting in the library and suddenly see a girl dressed as a sexy rabbit and curly passing by in the crowd? Surprisingly, only you can see it.
That's what Sakuta Azusagawa, the main character in this best anime school series, experienced. Apparently what he was going through was Puberty Syndrome. Well, curious about his name?
Based on the novel by Hajime Kamoshida and Keeji Mizoguchi, you need to listen to a fun story that deserves to be included in the anime school comedy category. The structure of the story is also very good, especially with an Interesting soundtrack.
Information
| | |
| --- | --- |
| Synonyms | Rascal Does Not Dream of Bunny Girl Senpai, AoButa |
| Genres | Comedy, Supernatural, Drama, Romance, School |
| Score | 8.37 |
4. Ao Haru Ride
Hard to move on aka rising from the remnants of past wounds? That's about the basic question that builds the story of the series. It is told by a high school student named Yoshioka who lives his daily life in his school with a pretense for the sake of existence.
Suddenly he was surprised by the presence of his childhood friend and love, Kou Tanaka, who had just moved in and attended the same school. Facing the reality of meeting Yoshioka, the former behaves very coldly and differs considerably from the known one.
How do the two of them go? This 12-episode series teaches us about the importance of forgetting the past that is increasingly irrelevant to the life that is being lived today and must go forward never give up.
Information
| | |
| --- | --- |
| Synonyms | Blue Spring Ride, Aoharaido |
| Genres | Comedy, Drama, School, Romance, Shoujo, Slice of Life |
| Score | 7.67 |
5. Kaichou wa Maid-Sama!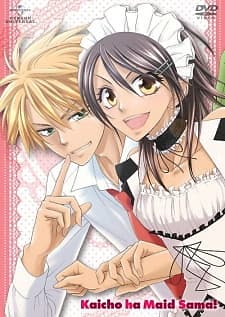 Misaki is a strong girl and holds the position of student council president at her school. He reminds his girlfriends to always be disciplined and not to be weak. The hardness of Misaki's stance makes her hate all the guys.
There's a reason why Misaki got there that way. Outside of her school activities, she is responsible as a figure who supports her family's economy and works as a waitress.
He keeps meetings about his profession from his circle of friends until finally the secret is revealed by Takumi, the coolest guy in his school. The two eventually fell in love, though not as smoothly as imagined. Cliché, but still fun to listen to.
Information
| | |
| --- | --- |
| Synonyms | Class President is a Maid! |
| Genres | Comedy, Romance, School, Shoujo |
| Score | 8.05 |
6. Tonari no Kaibutsu-kun
A student obsessed with always being ranked first in his class. His ambitions made him tend to be asocial until he finally met Haru, who was expelled from school for being a punk.
The two are reunited in a moment that both realize that they are one thing in common, which is that it is difficult to socialize with others. This is the best school genre anime that has a clear storyline with frequent humor.
7. Sukitte Ii Na Yo
The story begins with a girl at school who always closes herself with promiscuity. However, he is estimated by a cool guy who desperately tries to avenge his love.
Sukitte Ii Na Yo seems to be intended for female audiences with depictions of stories with strong romantic content and sometimes excessive impression. Nevertheless, a guaranteed 12 episodes will make you do not want to miss the exciting moments.
8. Itsudatte Bokura no Koi wa 10 cm Datta
Two friends are both facing graduation. They both want to continue their schooling in the arts.
But towards the end of the study, both were faced with 2 things, namely between choosing goals or pursuing love. How did it end? Just watch it yourself.
9. 3D Kanojo: Real Friend
The series follows a man who separates himself from the real world, especially his love life. That is, she is more interested in the figure of a girl in the form of anime.
There's a special reason why he hates girls in the real world. Unfortunately, he met a beautiful girl who became his friend. So what's the next story?
10. Karakai Jouzo no Takagi-san
The story is about two best friends at a school, one a boy and one a girl. This girl loves to abuse her best friend. The guy who often becomes months remains impatient with his partner's behavior.
Karakai Jouzo no Takagi-san lasts for 12 episodes with a series of natural and often surprising humorous acts.
11. School Rumble
The best school anime series from the beginning of this episode follows a punk student named Harima who secretly has a crush on Tenma, a very cute girl. School Rumble is increasingly interesting to follow due to the development of diverse plots and characters.
If you like the theme of everyday stories in school, this series deserves a thumbs up because it manages to stir up the emotions of the audience, ranging from silly things to very serious ones.
12. Toradora!
Anime with a phenomenal theme at the beginning of its appearance and still often recommended. One of the anime that is talked about as one of the best school anime that tells about couples with opposite traits.
The cute-looking girl turns out to have a hard nature, while the man is quite the opposite. Their romance becomes complicated when a third person appears.
13. Masamune-kun no Revenge
Ever been annoyed with someone but it turns out you secretly like it? Not a new story theme, but the series successfully presents a strong narrative.
The characterization that grows throughout the storyline will make you even more unable to miss the 12 episodes that take place. Masamune-kun no Revenge is a very light fun spectacle for anyone to watch.
14. Yamada-kun to 7-nin no Majo
What's up when you kiss and suddenly your body switches? Yamado is the main character in the series who suffers a confusing fate, between bad or good luck.
He was a lazy student, but as a result of the strange events, he had to solve the mystery. Don't miss 12 episodes that will bring you new characters that make you curious.
15. Nisekoi
Tells the story of Raku in his efforts to find his first love in childhood. The thing that will make you curious is to guess who the girl is. Because the main character is met with several girls.
During the series, you will also be entertained by the concept of the story that matures and feels like watching a movie. Then You're curious, you want to download and watch the series.
16. Koi to Uso
If the government has arranged romance and matchmaking, what can you do? Yes, the premise is so funny and a bit strange, but the story is quite easy to follow and provokes curiosity for 12 episodes.
The characters in this anime school romance series must live a fate of their respective romances that have been determined by the state. More excitingly, the main character encounters the fact that his country-arranged soul mate turns out to be more attractive than his lover.
What happens if it happens in the real world?
17. Kuzu no Honkai
Kuzu no Honkai is arguably a love story not to be experienced by a pair of high school students. Hanabi harbors her feelings for her teacher, Narumi. But the teacher is in a relationship with her partner, Akane, who is estimated by Mugi, Hanabi's friend.
It's complicated, isn't it? It was even more complicated when the two students decided to pretend to love each other and become lovers. How did the romance end that seemed complicated but exciting?
18. Nijiro Days
The life of high school students who are generally formulated and spoken with the thickness of friendship turns out to be very pleasant. The four boys who make friendships at school are Tsuyoshi, Keiichi, Matsun, and Hashiba, respectively.
The four of them have their romance that is complexly connected, but interestingly it's still nice to watch. This 24-episode series is not boring, because the duration is not too long and also not short.
19. ReLife
An adult whose career is threatened by the company and given only one chance to return to high school life.
Put in a school, he was forced to blend in with new friends who distanced his age very far. In his new surroundings, he begins to get close to classmates who are very difficult to approach and tend to be anti-social.
20. Tsuki Ga Kirei
The story of the series is the story of two third-grade junior high school students. Facing the final days of school and entering a new chapter of adolescence, the two try to get to know each other.
This best anime romance is perfect for those of you who like the first love stories that are usually only really experienced in junior high school. Tsuki Ga Kirei's appeal lies in her uncomplicated narrative and quite successfully depicts the innocence of a typical junior high school student's romance.
Those are the 20 best school anime series titles that you can watch or recommend to your friends. Don't miss the fun themes of other anime series that we summarized in Anime News. Enjoy!